"Delivering Solutions Amid Uncertainty" was the theme of California Water Association's (CWA) 2017 Spring Conference in Sacramento on May 18. CWA 2nd Vice President and Program Chair Evan Jacobs, External Relations Manager, California American Water, cited the conference as being more optimistic with California's second wettest winter on record quickly transforming drought management to flood and water supply management. Jacobs shared the intent behind the chosen theme, which was to capture the efforts being made to minimize the consequences of the next drought.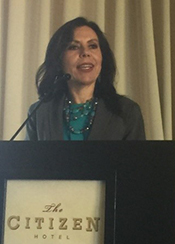 CWA President Lawrence Morales, President, East Pasadena Water, introduced Assembly Member Blanca Rubio, Chair of the Assembly Human Services Committee, who launched her keynote address with the infamous quote, "Whiskey is for drinking; water is for fighting." Noting that she was the youngest person ever elected to the Valley County Water District, Rubio expressed her enthusiasm about authoring four pending water bills dealing with water use efficiency regulations, future drought management, lead testing in schools and recycled water.
"You can count me as a true partner," said Rubio as she emphasized the need for CWA members to engage in the legislative process. She concluded, "California will be better for it. And you will be better for it."
Jacobs moderated the first panel on "2017 Water Year: Oasis or Mirage?" Panelists included Ellen Hanak, Director, Water Policy Center and Senior Fellow, Public Policy Institute of California (PPIC), and Gary Bardini, Deputy Director, Integrated Water, Management, California Department of Water Resources (DWR).
Hanak outlined lessons learned from the drought, including the ongoing need to address safe drinking water solutions for rural residents, protect aquatic ecosystems, manage groundwater and continue building urban drought resilience. The PPIC's California Drought Report Card graded urban/city dwellers' drought response an A-, agriculture/farming sector's a B, the state's response to drought effects on disadvantaged rural communities' drinking water a C- and the state's response to drought effects on the environment and aquatic ecosystems a D.
Bardini, whose presentation was titled "Managing California's Water Resources Sustainably for Future Generations," noted that managing water resources is getting more complex due to the differing opinions of individuals in the water management community. Bardini reviewed the 10 priority actions from the California Water Action Plan, starting with the top priority of "making conservation a California way of life." He discussed DWR's Strategic Business Plan, the Draft Water Available for Replenishment Report, State Water Project at a Glance and Sustainable Groundwater Management Act for which DWR is providing financial, planning and technical assistance.
Bardini concluded his presentation with an overview of the state's flood-management policy issues, including the Oroville Dam spillway crisis, and Governor Brown's Four-Point Plan to Bolster Dam Safety and Flood Protection.
Wade Crowfoot, Chief Executive Officer, The Water Foundation, moderated the panel on "Delivering Solutions for Low-Income and Disadvantaged Communities." He was joined by Martha Guzman Aceves, Commissioner, California Public Utilities Commission (CPUC); Max Gomberg, Water Conservation and Climate Change Manager, State Water Resources Control Board (SWRCB); Brad Coffey, Assistant Chief of Operations, Metropolitan Water District of Southern California; and Douglas Wallace, Environmental Affairs Officer, East Bay Municipal Utilities District. Crowfoot led a dual discussion on two facets of assistance for disadvantaged communities: (1) the need for financing infrastructure investment to remediate contaminated water sources and ensure a safe, reliable water supply; and (2) assisting customers whose income falls below a certain threshold.
Gomberg summarized SWRCB's directive under Assembly Bill 401 (Dodd) to produce a report for the Legislature in early 2018 that outlines SWRCB's recommendations on how a statewide low-income rate assistance (LIRA) program could be financed and implemented. He noted that one-third of the state's households fall below 200 percent of the federal poverty line (FPL), which is roughly comparable to 80 percent of the median household income in California. He said SWRCB is exploring four program scenarios on LIRA, including eligibility and financing, and conducting a series of workshops throughout the state this summer to receive input from the public.
Commissioner Guzman Aceves reported on the CPUC-regulated utilities' current LIRA programs, the disparities that exist among the programs and the CPUC's plans to initiate a rulemaking that will be designed to harmonize the existing programs and ensure the rulemaking is coordinated with the SWRCB's activities. Both Wallace and Coffey described the current low-income/disadvantaged communities' assistance programs their utilities have in place, noting the challenges for public water agencies to engage in such programs, given the constraints imposed by Proposition 218, which prevents government-owned water utilities from funding LIRA programs through ratepayer subsidies.
In his presentation on "Implementing Executive Order B-40-17: Water Conservation Regulations," Erik Ekdahl, Director, Office of Research, Planning and Performance, SWRCB, provided a timeline of California's drought, including the various conservation approaches and emergency regulations that have been instituted, culminating with the implementation of Governor Brown's Executive Order B-37-16, Making Conservation a California Way of Life.
Ekdahl discussed the impact of the statewide cumulative water savings, which resulted in Governor Brown's April 7, 2017, Executive Order B-40-17 terminating the Drought State of Emergency for most California counties and establishing long-term conservation goals and improved drought planning to break the reactive drought-management cycle.
During her luncheon presentation, Governor Brown's Deputy Cabinet Secretary Kim Craig discussed the legislative strategy to implement the governor's proposed policies on long-term water conservation and future drought management regulations. She emphasized the governor's desire to work cooperatively with stakeholders and legislators on his budget "trailer" bill, which encompasses new legislation for both policy priorities, noting that the stakeholder working group she chairs and the Assembly Water Conservation Working Group, are serving as the consensus-building vehicles for the final legislation.
During his presentation on, "Prioritization of Drinking Water Regulations for Calendar Year 2017," Darrin Polhemus Deputy Director, SWRCB's Division of Drinking Water, provided an update on the state's drinking water programs and related regulations. He highlighted several regulatory priorities, including those for drinking water, surface water augmentation for direct potable reuse and recycled water and maximum contaminant levels for coliform, lead and copper and perchlorate.
Following his update, Deputy Director Polhemus moderated a panel on "Delivering Water Quality Solutions." He was joined by Dawn White, Water Quality Manager, Golden State Water Company, who is also CWA's Water Quality Committee Chair; Sophie James, Director of Water Quality, California Water Service; Adam Ly, Water Quality Manager, Liberty Utilities; Tim Miller, Senior Director of Water Quality and Environmental Compliance, California American Water; Francois Rodigari, Director of Water Quality and Environmental Services, San Jose Water Company; and David Van, Water Quality Superintendent, San Gabriel Valley Water Company.
The panelists shared their progress with the school lead sampling program, implementation of Senate Bill 1398 relative to establishing an inventory and replacement schedule for lead water pipes and service lines, and compliance with current and proposed standards on coliform bacteria, hexavalent chromium and 1,2,3-trichloropropane. They also discussed the state's Water Quality Enforcement Policy and the need for water utilities to have access to an efficient process to comply with the California Environmental Quality Act
The conference concluded with "Delivering Legislative Solutions in the 2017 Session," a panel moderated by Jennifer Capitolo, Senior Policy Advisor, Nossaman LLP. Panelists included Danielle Blacet, Director for Water, California Municipal Utilities Association; Kathleen Cole, Executive Legislative Representative, Metropolitan Water District of Southern California; and Wendy Ridderbusch, Director of State Relations, Association of California Water Agencies. The panel discussed a variety of bills moving through the 2017 legislative session, including cross-connection regulations, lead testing in schools, water-use efficiency and drought management.