Following W. Richard Roth's retirement as President and Chief Executive Officer of San Jose Water Group (SJW), Eric W. Thornburg has been appointed as Roth's successor beginning November 6, 2017. To ensure a seamless transition, Roth will serve as Chief Executive Emeritus until December 31 and will continue as Chairman of the Board until the next annual meeting of stockholders.
Roth has held management positions at SJW for more than 25 years, playing an instrumental role in developing two outstanding regional water utilities through successful strategic planning and capital improvements.
"It has been extremely rewarding and a distinct privilege to work with the talented and dedicated employees at every level of the SJW organization," said Roth in a press release. "Their integrity, professionalism and customer-first focus has made SJW the respected and successful company it is today."
During the last 10 years, Thornburg has served as President and Chief Executive Officer of Connecticut Water Service, Inc. He is a well-recognized leader and veteran in the water utility industry, having also served as President of Missouri-American Water and as Central Region Vice President-External Affairs for American Water Works Corporation.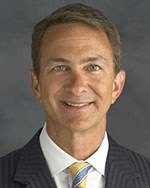 "We believe that Eric's considerable management experience and extensive knowledge of the water business, combined with SJW Group's superb utility platforms and outstanding staff, will be an excellent formula for the continued growth and success of the company," said Robert A. Van Valer, SJW Board's Lead Independent Director.